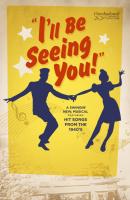 The Christmas season is often associated with big family reunions and traditions that continue for generations - get-togethers, activities, friends, fun, and (many times) gifts!

Why not make this season fun and memorable for you and your family and maybe even your friends?

I'll Be Seeing You is a brand new musical that features songs from the 40's. This musical has a "White Christmas" feel to it with its singing, dancing, and wonderful characters.

As our characters set out to entertain and boost the spirits of American troops during WWII, they find themselves forever changed in the process. As the pages on the calendar turn, the holiday spirit of Christmas brings hope and joy!
November 24 - December 16, 2017
Thursdays & Fridays 7:30 p.m.
Saturdays 2 p.m. & 7:30 p.m.
Purchase Tickets at overshadowed.org
Location: Medinah Baptist Church
900 Foster Ave, Medinah, IL 60157
Our Christmas musical features the USO and home front of WWII!

This year's Christmas show features the USO!
What is the USO?
The USO (United Service Organization) is perhaps the most celebrated home front war relief effort of WWII.
Food
Coffee, doughnuts, sandwiches on homemade bread, home-baked goods, turkey dinners on Thanksgiving and Christmas, even birthday cakes were provided to our men in uniform by the dedicated volunteers in USO clubs across the nation.
Entertainment
Dances were the most popular form of entertainment, some with hugely popular dance bands like Glenn Miller and Benny Goodman. Some had local orchestras or military bands. Others used records played on phonographs.
From local canteens to camp shows to hospital tours, the USO tried to cover it all, giving the men something to do and a piece of home at the same time.
What's our show like?
Soldiers, Girls, Music, Dancing, Stories
Our story takes all of those elements and weaves it with the lives of our entertainers and the soldiers we will meet. Start in a canteen in Chicago where soldiers and sailors have stopped to spend the weekend - they make a good impression on the girls of Chicago and connections are formed!
Using music of the 40s, these characters sing and dance from one Christmas to the next. If you love this time period, swing dancing, or war stories, you will love this new musical!
Get your tickets now! This is one you don't want to miss
Purchase Tickets at overshadowed.org